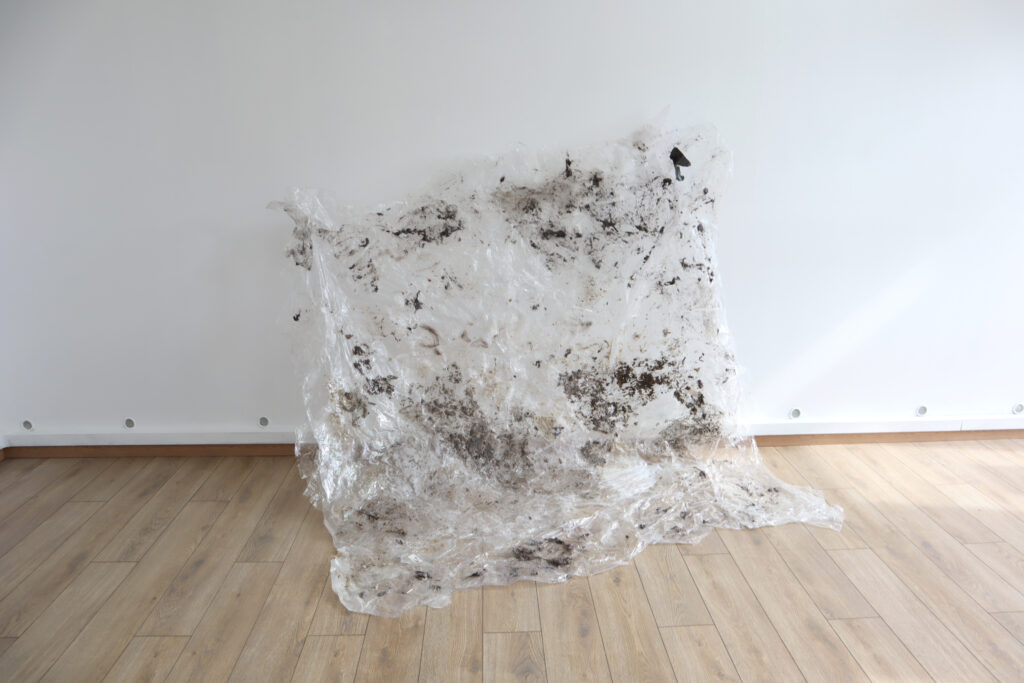 Broken artefacts or debris are socially perceived as dirt. For me these are other-than-human beings and I work as a guide and mediator to bring them to life. The found matter and I are working in situ or we migrate to new places.
Assembling together we gather an ex-centric presence, unwanted memory and lack of control with imaginary stories for increasing speculative visions in daily life. That co-creation uses a range of visuals media, assemblages, including performative sculpture, objects, performance, situations, walks, storytelling, audio and text. To animate and activate invisible worlds, I read urban public space as the scenography of human traces. With relational aesthetics and sticky, flexible materials, participatory experiences we create a vision of unheard voices to register the traces and compose new beings.
That co-creative process proves the power of otherness and cooperation as a magic tool for real shifts in socio-matter relations.
UPCOMING:

Performance, Lodge222 Dordrecht, NL (Sep. 30th, 2023)
Performative walkshop, Fine Arts Vilnius, LT (Oct. 6th 2023)
Residency in Amsterdam-West, NL (Sep.-Dec. 2023)
Group Exhibition How to End in Pictura Dordrecht, NL (Dec. 2nd 2023- Jan. 21st 2024)
Performance site-specific at The National Museum in Warsaw, PL (Spring 2024)

ᴄᴜʀʀᴇɴᴛʟʏ: ᴘᴇʀꜰᴏʀᴍɪɴɢ ᴘᴜʙʟɪᴄ ꜱᴘᴀᴄᴇ ᴀʀᴛɪꜱᴛɪᴄ ʀᴇꜱᴇᴀʀᴄʜ @speculative_artifacts
about research